Second Saturday of each month from April to October the Club gathers at Members houses to visit, learn techniques, and hopefully run trains.
A layout is not needed to have an Open House, sometimes we meet and have clinics on gardening and modeling, sometimes we help plan the future railroad. The only requirement is that we have a good time and visit with friends.

Modular Special Interest Group (Mod-SIG)
Our large 80' x 60' modular display is set-up at local train shows, such as Great Train Expo and World's Greatest Hobby Show.
The Modular display is a huge group project that allows us to demonstrate our hobby and our modeling skills to the public, and allows members who do not have layouts, an opportunity to show off their trains. We also have a smaller Children's Display for local events.
Operations Special Interest Group (Op-SIG)
Ever wanted to be the Conductor, planning out the switching moves? Yardmaster, Dispatcher? We can find a spot for you.
The OPS-SIG starts sessions in April and goes through October as weather permits. We operate on several layouts in the Club, typically on Friday evenings until dark drives us off the tracks.

Every March we hold a workshop in which we build structures for our layouts, sheds, turntables, water towers, trestles and more.
Plus at the November Banquet, we feature clinics on a wide range of topics, from Live Steam, scenery, gardening and more.




Summer will find us traveling on trains, Winter will find us watching Railroad movies.
Recently the club traveled on Amtrak to Klamath Falls, visited Crater Lake and Train Mountain. Other trips include Amtrak travel to Essex, Montana, Glacier National Park and the Issak Walton Lodge.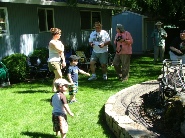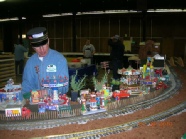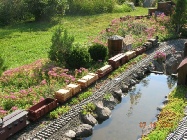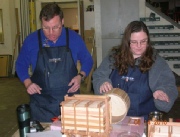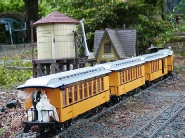 Club Events and Activities

Live Steam Special Interest Group
For those who like to have real steam exhaust from their locomotives.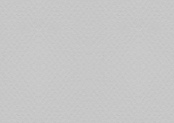 Currently published on a monthly basis, in electronic and paper format, the newsletter contains news about club happenings, upcoming events, clinics, how to articles and railroad history.
This archive is restricted to Members only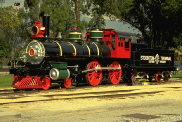 Free Clinic! How To Get Started In Garden Railroading 101
So you would like to start a Garden Railroad but you don't know where to start.
You have lots of questions and very few answers. Well, we have a solution for you. Get those questions answered by attending a FREE three-hour clinic on how to get started in Garden Railroading. Learn what NOT to do and avoid those rookie mistakes.
Two Clinics are held, usually in August Each Clinic covers the same basic information.
Clinic size is limited to 10 attendees per clinic.
For additional information and to be notified when the clinics are scheduled,
email beginners-clinic@rcgrs.com.
Tom Gaps will lead the clinic at the Lone Pine and Western Railroad.