Tom Gaps, Engineer 1:20.3 Fn3 Scale
Landscaping and track work completed April 2011. Work continues on landscaping and structures.

Gary Lee, Engineer 1:24 ½ inch scale
A beautiful combination of landscaping and craftsman wood structures make this a "Must see" on the Summer Tour

Scale 1:24 Power Track DCC
Set in the 1910 to 1920 period in Colorado. Engineers built three tunnels totaling 90 feet in length as they carved a 2% grade to the Summit. The mainline is single track with 4 passing sidings so opposing trains can pass. There is a reversing loop at each end so trains can run continuously on the 475 foot mainline.

Bud Quinn, Engineer
Christina Brittain, maintenance crew, modeler, and gardener
Scale 1:24 Power Battery/RC and Track
Early 19th century RR begun in 2005. Consists of a mainline with 400+' of
flexible stainless steel rail, max. 3.2% grade, min. 6' radius curves,
folded over and under, crossing the home's main walkway twice.


Dennis Rose Engineer
Carolyn Rose MOW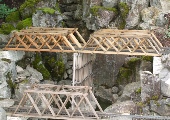 Photo Gallery
Click on the Railroad name to see slide show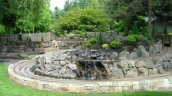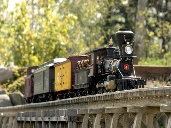 50 x 60 ft. Modular Display set up at Great Train Expo, 2009 -2010- 2011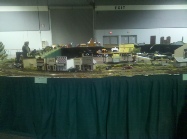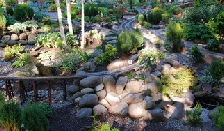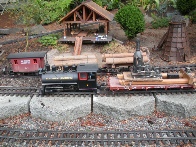 Bill Dippert President and Chief Operating Officer
Jean Dippert, Treasurer
Track and Battery poweer/RC Scale 1:22.5
We are modeling a fictional branch of the D&RGW Ry from La Puerta to Summit. Era is 1950-60's. Mainly steam power, but some early narrow gauge diesels also. The track goes all over a 100 x 150 size lot. Roughly 1000 feet of total trackage.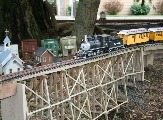 Double track main with two bridges. In 2011 we added a 6' lift bridge based on one of the bridges in Portland. Video of the test of lift mechanism is included.
Joi C & Dave Hess, and Jackie & Dave Hansen
Track Power
The SILETZ BAY RAILWAY is a whimsical treat, featuring close to 2 dozen nursery rhymes and scenes of fantasy and fun that change each year. With close to 300' of track, it wends its way between two homes with 6 tunnels and 6 trestles based on a 22.5 x 1 format. A nature trail through the middle is a pleasant diversion that allows the train to pop in and out of the vibrant native foliage.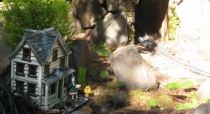 Doug Watson 1:29 Track Power
Mainline action with sweeping curves around a grove of cedar trees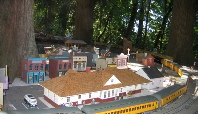 Ron and Merlene Bacon 1:32, 1:29 1:20.3
Track Power Battery/RC Live Steam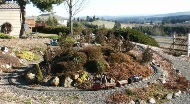 Joe Chesney Track Power Battery/RC
Railroad runs from the basement to the backyard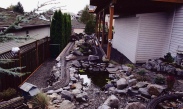 Nick and Sue Kelsey Battery/RC 1:22.5 and 1:20.3
Raised track in a small suburban backyard, focused on Operations in the Steam area. A mythical connector railroad on the plains of Colorado.